From time to time, I'll offer signed copies of the paperback versions of my books. You'll find them on this page when they're available.
Because I buy these in bulk, these offers will be time-sensitive.
Current Offers

Signed copies of the Girls of Summer short Written in the Stars are available for a limited time (and I have limited stock, so get in quick).
The cost of the paperback $11AU including postage postage. If you want more than one book, be sure to change the quantity in the box on the order page.
And don't forget to to tell me who you want your book signed to and any message you might like in the "Add special instructions" box. If you miss this part, don't panic – just send me an email with your purchase details along with the name and message.
Just click on the Buy Now button below to secure your copy.
(I'll also have some more Crush and After Summer paperbacks available for sale soon with brand spanking new covers.)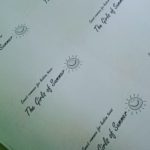 Already have a paperback and want it signed? No problem! I have book plates I can sign and send to you. They're little stickers you can stick on the inside of your books.
All you have to do to get one is send me a picture of you with a copy of one of my books to selena@srsilcox.com along with your mailing address (and who I should sign it to) and I'll shoot one off to you. That's it. Doesn't cost you a thing!